Mr. Awad unexpectedly passed away in January, 2005, and his presence and work ethic are dearly missed.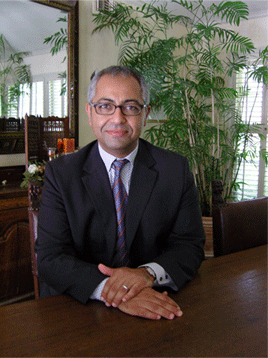 Mr. Awad's unique understanding of the intricacies of litigation and complex business matters stems from skills developed in the courtroom to his expertise in the boardroom and beyond. Mr. Awad is a member of the State Bar of California and the Los Angeles County Bar Association, the Glendale Bar Association, the Arab American Lawyers Association of Southern California, and the California Supreme Court Historical Society.
In the Courtroom
Mr. Awad has been litigating civil and criminal cases for over 17 years, representing both plaintiffs and defendants in diverse substantive areas including commercial/contract, real estate, employment, personal injury, family/divorce and criminal law at the trial court and appellate levels, mostly in state venues in California. Mr. Awad has handled all aspects of litigation, including injunctions, attachments, restraining orders, motion practice, discovery, trials, appeals and alternative dispute resolution. Mr. Awad has also represented clients in numerous arbitration, mediation, and other types of alternative dispute resolution proceedings.
Mr. Awad started his legal career in 1992 as a deputy attorney general for the Department of Justice in Los Angeles, where he prosecuted approximately 200 felony appeals for the State of California. In 1999, Mr. Awad co-founded his law practice, Awad & Awad LLP, which has flourished into a full-service firm.
In the Boardroom
In addition to his extensive litigation experience, Mr. Awad's legal practice extends outside of the courtroom and into the boardroom, serving as corporate counsel to numerous clients. Mr. Awad is also a businessman himself, as a real estate broker managing a successful commercial and residential brokerage and property management firm. Mr. Awad's business know-how makes him uniquely qualified to litigate complex real estate, employment and contractual disputes and provide sound legal advice.
In the Community
Together with his late brother, Mr. Awad co-founded Coptic Legal Foundation, a non-profit legal aid organization. Mr. Awad has contributed countless pro bono hours providing legal counsel and advocating for those who cannot afford legal resources. Mr. Awad is also a member of the Glendale Kiwanis Club, the UCLA, Loyola Marymount University and Harvard University Alumni associations, as well as various bar associations.
In the Classroom
After graduating from Hoover High School in Glendale, California, Mr. Awad went on to earn a degree in Philosophy from UCLA (1988) and a Juris Doctorate from Loyola Law School (1992). In 1998, Mr. Awad earned a Master in Public Policy degree from Harvard University's John F. Kennedy School of Government.
In the Beginning
Mr. Awad was born in Cairo, Egypt. He and his family moved to the U.S. when he was 3 years old to settle down in Maryland before moving to Glendale, California in 1977, driving across country with all of their belongings in a VW Bug. Although Mr. Awad and his family assimilated to the American culture quite naturally, his dual-cultural upbringing has been an asset in his legal practice as he is sensitive to the role differing culture plays in business relationships and legal disputes.
Mr. Awad is conversational in Arabic.
In his Spare Time
Mr. Awad and his wife, Rana (also an attorney), spend their free time traveling, restoring vintage cars, rooting for local collegial and professional sports teams, and savoring fine food and wine.
Rana S. Awad's intellectual property practice focuses on entertainment, copyright and trademark law. Ms. Awad brings a broad range of IP and entertainment-related experience to Awad & Awad LLP.

Ms. Awad's copyrights and trademark experience includes trademark prosecution, filing of trademark and copyright applications, co-ownership agreements, and the protection and enforcement of copyrights and trademarks over the Internet.

Ms. Awad's entertainment practice involves a wide variety of entertainment-related transactions, including negotiating and drafting motion picture and television production, distribution, licensing, marketing, advertising, branding and promotional agreements.

Prior to joining Awad & Awad LLP, Ms. Awad was an IP litigation associate at Foley & Lardner, litigating matters involving trademark, copyright, domain names and right of publicity matters. Ms. Awad also spent three years as a litigation and corporate associate at Loeb & Loeb LLP. In addition to practicing general litigation at Loeb & Loeb, Ms. Awad was also a member of the corporate group, performing an integral role in mergers and acquisitions transactions.

Ms. Awad attended the University of California at Berkeley School of Law (Boalt Hall) (J.D., 2004). She is also a graduate of the University of Southern California where she completed a double major in political science and journalism and a minor in business administration (B.A., magna cum laude, Phi Beta Kappa, 1999).

Ms. Awad served as an extern to California Supreme Court Justice Joyce L. Kennard during law school.

Ms. Awad is a member of the State Bar of California.